Welcome to TrashPandaThoughts, a newsletter written by Mr. Trash, the Founder of Trash Panda Capital.
---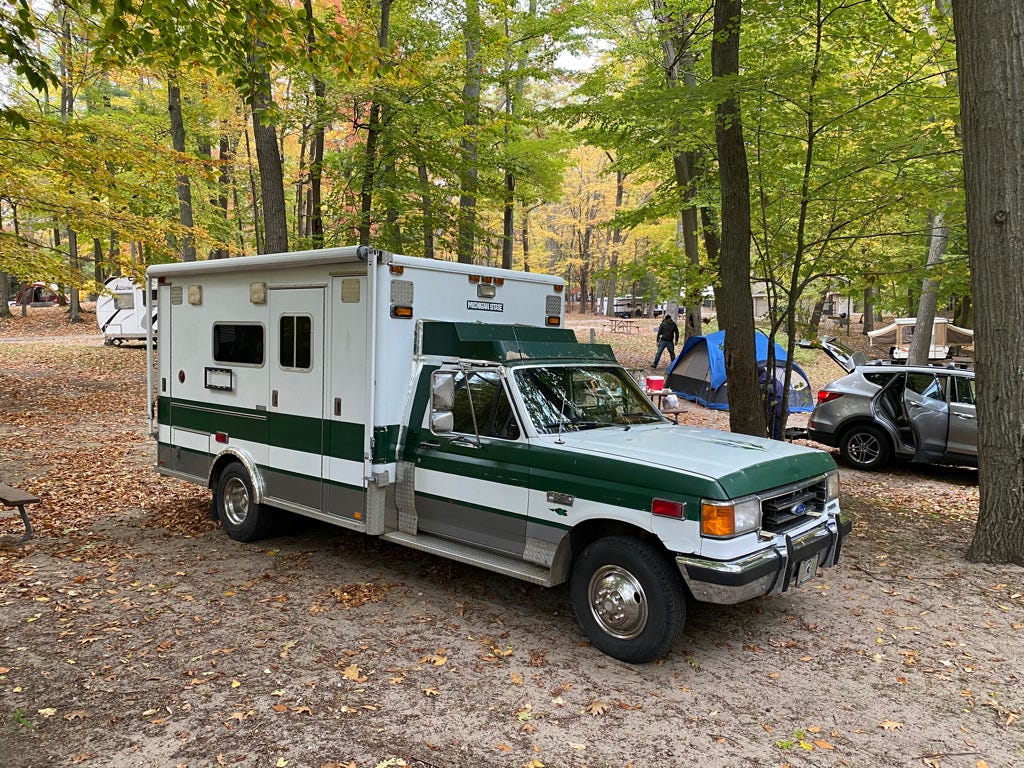 Short issue for this week folks, as its been wicked busy! Just wanted to share a brief story with you in-regards to confidence and fear.
As many of you may know, my girlfriend and I bought a 1991 Ford F-350 Diesel Ambulance, basically sight unseen. I love Diesels (almost as much as Teslas), and this ambulance checked all the boxes for a conversion: It had a motorhome title, low miles (we think), good price, and lots of storage and room.
Quite a crazy COVID purchase 🤪
While I was driving it home, it actually ended up stalling on an exit ramp, and refused to move until I threw it into first gear.
On top of that, we found out that it had major leaks in the cab, I blew a Starter Solenoid and a both batteries, and it sat for weeks. Eventually we fixed the issues, but I have been honestly fearful of driving it myself, or even riding in it.
So I haven't done anything with it. Until recently. 🚫
After dreading going out and camping with the ambulance for quite some time, I finally was thrown in there, and down the road we went.
To my surprise, at a lower speed, it performed beautifully. Like an old Piper Cub or Cessna that is still flyable, but just needs a gentile touch.
We arrived at the campsite without any issues, and had a blast. Drive home was great too, and once we got home, I finally conquered my last fear and felt relief.
You see, lately, I've been in a fear funk to say the least. My confidence has been beaten down, to the point where I wanted to leave the career path I had out of burn out and depression.
This was before I realized that its a stupid idea to throw everything away over one or two people that have shaken my confidence.
The following Monday, I ended up nailing an interview, and delivering a awesome proposal for a contracting gig, with pricing that reflects the confidence in my skills and experience.
I'm also working on some deals and moves that I have to say are so nerve wracking, but full of major opportunity and profits if they come to fruition.
I'm still anxious about everything as I await answers about the proposals, but at the end of the day, I'm the most confident I have ever been, and the results have been amazing.
Fear is one of our strongest emotions, and sometimes you have to break free from it's grasp. ✊
Work at Trash Panda Capital is proceeding at a fast clip, with a few potential acquisition and scouting deals targeted for close at the end of the month. I'm so excited to share them with you.
---
Until next time,
Mr. Trash 🦝
---
Catch me on Twitter @mrtrash757 ! 🐦
Click the buttons below to share the post or subscribe! 👇